2023 Equal Pay Day Event
The AAUW Corpus Christi Branch was pleased to co-sponsor the 2023 Equal Pay Day Luncheon, held at the YWCA on Wednesday, March 15, from 12:10-12:50. The speaker was Mary Hine of CapTrust, who talked about personal debt-reduction.  Mary emphasized that not all debt is created equal.  Debt that creates something of value – such as a college education loan or a home mortgage – is considered good debt.  Families should know their debt-to-income ratio to determine whether they are handling too much debt.  Generally speaking, a debt-to-income ratio of 36% or less is desirable.  Mary answered questions from the audience concerning tips on how to tackle large debt. About 35 people attended the event, and everyone was treated to a free lunch.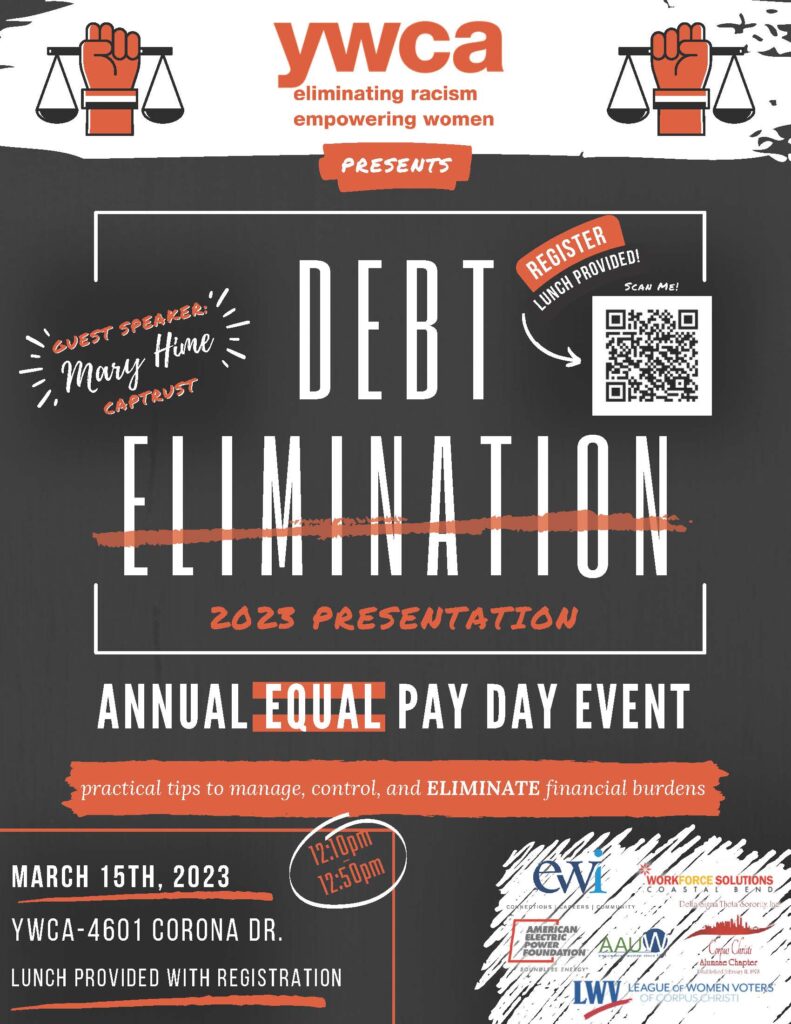 2021 Equal Pay Day Event
Corpus Christi Equal Pay Day Event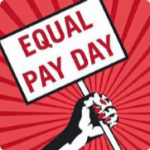 When: March 31, 2021 @ 12:00 p.m. – 1:00 p.m.
Where: Virtual Event
https://www.facebook.com/YWCACorpusChristi/videos
Cost: Free
Speaker: Sharon Kolaja, Owner of Sterling Personnel, Inc.
Topic: The Big Payoff: Career Building Tips

2019 Equal Pay Day Workshop and Luncheon
The AAUW Corpus Christi Branch was one of several co-sponsors for the Equal Pay Day Workshop and Luncheon held April 2, 2019, from 11:30 a.m. to 1:00 p.m. at the First United Methodist Church, 900 Shoreline Dr. Over 100 women – and a few men – attended the event.
Kristin Diaz from KIII News served as the luncheon host and moderator, introducing the panel speakers: Judge Inna Klein, Dr. Amy Aldridge Sanford from Texas A&M University – Corpus Christi, and Amy Villarreal from Work Force Solutions.
Judge Inna Klein spoke about Equal Pay legislation
Dr. Amy Aldridge Sanford addressed women's roles and empowerment
Amy Villarreal provided information about services available from the Work Force Solutions and about open positions that need more women to apply
April 2nd symbolizes the point in 2019 when white women's earnings finally match what their male counterparts earned in 2018. Dates for black women and Hispanic women are much later – July 31st and November 2nd.
Read Dr. Amy Aldridge Sanford's guest column, "Let's End the Need for Equal Pay Day," that ran in the Corpus Christi Caller-Times on April 14, 2019.
2018 Equal Pay Day Workshop and Luncheon
AAUW Corpus Christi Branch co-sponsored the Equal Pay Day "Workplace Negotiation Skills for Women" workshop and luncheon held on April 10, 2018. The event educated women about pay inequity and encouraged women to take action. The workshop was presented by Dr. John Cicala, Associate Professor of Marketing at Texas A&M University-Kingsville. Dr. Cicala's
discussion addressed the negotiation skills and tactics that can be used to eliminate the pay gap and other work-related issues. He offered ways for women to negotiate in the workplace and to move forward in their careers. Dr. Cicala specializes in workplace negotiation and runs Texas A&M-Kingsville's Center for Negotiation. Over 100 women and men attended the event.
The date of the event is symbolic, as it represents the date in 2018 in which women's earnings finally match what their male counterparts earned in 2017. On average, it takes an extra three months for women's salaries to equal what their male counterparts earned in 2017. The date applies only to white women who work full time; the date at which African American women's earnings catch up is July 31 and Hispanic women's earnings do not catch up until November 2.
The National Partnership for Women and Families (NPWF) estimates that American women who are employed full time lose a total of $840 billion every year due to this difference in earnings. The group says that the wage gap varies depending on which state and congressional district a person lives in, but NPWF data shows that out of 435 congressional districts, 429 show a median pay gap between women and men.
Acording to NPWF, white Texas women working full time are paid 79 cents on average for every dollar paid to men. Hispanic women are paid 44 cents for every dollar a man is paid, and the figure for African American women is 58 cents. Asian women are paid 80 cents for every dollar paid to men. The NPWF estimates that the difference in pay equals 15 months of child care, more than 10 months of rent or nearly seven months of a mortgage payment.
The event is a collaboration between the YWCA Corpus Christi, AAUW, EWI, and the League of Women Voters Corpus Christi.