The AAUW Corpus Christi Branch held a virtual meeting on March 6, 2021, at 10:30 a.m.  Our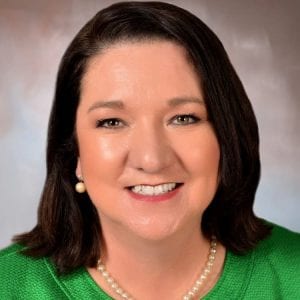 guest speaker was Sarah Banta, who has served as Executive Director of USO South Texas since 2017.  Prior to her current position, Sarah was an active military spouse for 24 years and took on several leadership roles, including the American Spouse Lead for the International Spouses' Program at the National Defense University; President and other Board positions with various squadron Spouses' Clubs; and Family Readiness Groups.
Sarah is a native of Corpus Christi, Texas, and an active member of several local volunteer organizations.  Sarah's husband is Captain Stephen Banta (USN, Ret.) who is the Executive Director of the USS Lexington Museum on the Bay.
The United Services Organization (USO) was founded in 1941 under the direction of President Franklin D. Roosevelt, prior to the U.S. involvement in World War II.  The organization serves the active-duty military members and their families from every branch of the military.  The main office for the USO South Texas is located on the base at the Naval Air Station Corpus Christi.  This office also serves military members and their families at the Naval Air Station Kingsville, as well as military families stationed in the Texas valley.
The services and programs offered by USO South Texas have been modified and refined this past year to meet the stringent COVID restrictions on the area bases.  Currently the organization is sponsoring seven primary South Texas programs:
Enhanced food and diaper pantry – military members and their families are eligible to pick up supplies once a week that include two protein items, other foods, and non-perishable items.
Mess Hall – this program features recipes with zero impact on budget.
Free food vouchers – area restaurants have partnered with the USO and offer free vouchers valued at $20.
Buddy Buckets of Fun – the USO has partnered with HEB with a program that offers free food and crafts for children.
Children's Reading Program – this program was designed by an Early Education Specialist and encourages children to read, with free hardback books given to those who complete a program.
Scavenger Hunts – Scavenger hunts are designed for families to find everyday items outside and to submit their pictures. Prizes include a basket full of supplies for a family fun night, such as all the ingredients to make a pizza.
Coloring contests – families upload pictures of their children's colorings, and people vote on their favorites. All contest winners get age-appropriate prizes and vouchers for a restaurant.
The USO South Texas has also partnered with the Corpus Christi International Airport for Run the Runway, a certified 5K race held on an actual commercial runway at the CCIA.  The registration fees for this event are donations to the USO South Texas.
Sarah discussed some of the difficulties faced by military families, who move frequently.  The services provided by the USO South Texas help family members cope through the long months of being separated from their loved ones who are deployed around the world.  With COVID restrictions, it has been even more difficult for these families to make connections with the local community.
Sarah indicated that volunteers are not currently allowed on the base, due to COVID restrictions, but when their new facility is opened and social distancing restrictions are lifted, she will let us know of volunteer opportunities.  They are accepting donations for the food pantry, either monetary or in canned goods and other nonperishables.  You can contact Sarah if you wish to make a donation.