The AAUW Corpus Christi Branch held a meeting on Saturday, September 11, 2021, at 10:30 a.m. via Zoom.  There were 25 members and guests in attendance.  After a welcome by President Shirley Selz to several new members and guests, Dr. Sylvia Rendon introduced Gloria Amescua, our guest speaker.  Gloria is a resident of Austin, Texas, and she received her B.A. and M.Ed. degrees from the University of Texas.
For an introduction to her topic, Gloria championed the teachers in her life and stated that they were a major influence for her and the reason she became a teacher herself.  She enjoyed a career in education for 33 years.  Gloria stated that she has always been intrigued by poetry, so she opened her presentation with a reading of several poems, and then she shared her first – and poignant – poem she wrote at the tender age of nine.
As Gloria become more interested in writing, she joined the Austin Writers' League, which later become the Writers' League of Texas, where she found resources and support for her interests.  Gloria shared a picture of her two adorable granddaughters who live in Florida and stated that they were her inspiration to write children's pictures books.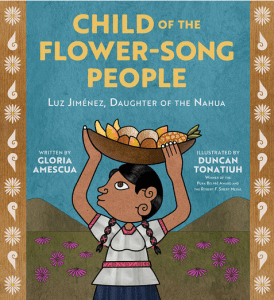 Gloria had her audience mesmerized as she read passages from her book, Child of the Flower-Song People: Luz Jimenez, Daughter of the Nahua.  The story is a biography about Luz Jimenez, a teacher in Mexico, and her drive to carry on the skills, beauty, spirit, and pride of native Nahua amidst the ravages of colonialism and the plight of the Indigenous people of Mexico.  Stunning portraits and photographs from the 1920s of Luz Jimenez by the painter Diego Rivera can be seen at this link: Luz Jimenez Images.  The book is beautifully illustrated by Duncan Tonatiuh who uses an artistic style that resembles native Mexican artwork.
In response to a question from the audience, Gloria suggested that those who are interested in becoming an author of pictures books for children and young adults should check out the Society of Children's Book Writers and Illustrators (SCBWI).
President Shirley Selz gave a warm thank you to Gloria for her presentation, and several other members stated their appreciation for her time and praise for her work.  It is an inspirational story about a strong, educated woman who made a difference in her world – exactly the type of successful female-centered story AAUW members celebrate.